Middling Age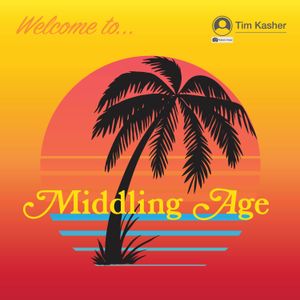 Tim Kasher's fourth studio album, Middling Age, is an existentialist screed on mortality and loss that has inadvertently arrived as the world struggles in kind. Known for his ability to thoughtfully explore complex subject matter with empathy, humanity, and wit, Kasher is now contemplating some of life's thorniest, yet most universal topics. The fear of losing loved ones, feelings of personal stagnancy and uncertainty, sweeping self-evaluations, and a sense of unrelenting disquietude all unfold across these 11 tracks. Kasher has always been able to tackle serious subjects without taking himself too seriously—as the album's title implies—and his unique candor about life's kaleidoscopic and often absurd nature has resonated with listeners who have grown alongside him. Now he brings that same uninhibited relatability to this personal, deeply felt consideration of how it feels to be 'middle aged,' and the weight of the cumulative anxiety we collect as we grow older. 
Kasher had already written much of what would become Middling Age prior to the pandemic, but with the world locked down and touring not an option, he opted to continue working on the songs while homebound. With studios shuttered, he cobbled together a lineup of musicians from around the country to help him craft the record remotely. A large cast of friends and collaborators all recorded their parts at home, including: Jayson Gerycz of Cloud Nothings, providing all the percussion from his studio in Cleveland, Ohio; Laura Jane Grace (Against Me!), from Chicago, IL, sings a verse of "Forever Of The Living Dead," to which Jeff Rosenstock also supplies a dazzling saxophone solo from Los Angeles, CA; Cursive bandmates Patrick Newbery and Megan Siebe, offering trumpet and cello, respectively, from Omaha, Nebraska; and Macey Taylor of The Mystic Valley Band, providing the amazing bass line for "100 Ways To Paint A Bowl Of Limes" from Birmingham, AL. Kasher's niece, a budding songwriter at age 9, wrote and performed opener "Long Days," and also sings the album's final notes. 
"There's an audio theme throughout the record of a tense, buzzy cacophony which represents the anxiety that settles in as we age," Kasher explains. "The weight of the world, the worry and concern of how others receive me and how I'm receiving them. Social anxieties and plenty of mortal anxiety." He ruminates those apprehensions on songs like the spare "I Don't Think About You" and the crushing ballad "Whisper Your Death Wish," which features the kind of devastating lyrics that only he could pen ("I don't want to roam the neighborhood a widow/I don't want to lose the scent from your pillow/And I know I let you down a lot/But I can't do this alone"). "It's the song form of when we have those awful thoughts of what it would be like when our loved ones die," he says. "I hate it so much, but I find myself stuck with these thoughts more and more as I age." Meanwhile songs like "What Are We Doing," which transforms into an infectious pop song, the sinuously graceful "100 Ways To Paint A Bowl Of Limes," and gorgeous, lullaby-like "You Don't Gotta Beat Yourself Up About It" look at existential unease and mid-life feelings of languishing. Middling Age also more loosely comments on our current moment, where we feel such intense isolation, not only as a result of a global pandemic, but the pervasive detachment that results from spending more time than ever on our laptops and phones—the toll of the internet on the human psyche. 
Sonically, and fittingly, the eclectic Middling Age embraces both the upbeat and the downbeat. The album features some of the most beautiful music Kasher has written to date; the melodies are carried by his strong arrangements, which include additional instrumentation like flute, violin, and kalimba. Middling Age also contains some of his most stripped-down songs—a leanness that he credits to engineer Jason Cupp's (American Football, Ratboys) support—and these more pared down tracks sit seamlessly alongside the album's louder moments, like the dynamic "The John Jouberts" (a curving, reverent consideration of the generational scars left by the eponymous serial killer who haunted early '80s Nebraska). 
"You Don't Gotta Beat Yourself Up About It" threads together many of Middling Age's themes, with Kasher singing, "We don't know where we come from/We don't know where we belong/We don't know when we'll be gone…/But you don't gotta beat yourself up about it." He explains, "It's just me openly pleading for some sort of understanding in who the fuck I'm supposed to be and what the fuck we are all supposed to be doing. It's about a lifetime of beating myself up over 'what it's all about,' unable to ever come up with a sensible answer." Like so much of Kasher's best work over the years, it stares directly into discomfort and uncertainty, and taps into the sense of searching that often informs so much of human existence—a search that can either consume you, or be redefined as you enter the next chapter of life. "It's also a song that attempts to let myself off the hook," Kasher admits. "I'm likely never going to find any answers and that's okay."